Sherwani is a symbol of rich traditional fashion with royal elegance and style that symbolizes royalty. Further, it is the first choice for men to show rich tradition with stylish appearance. It suits any formal event like wedding and engagements sangeet. It is also wore at family get-together, traditional rituals and ceremonies. The masculine equivalent of the bride's saree or lehenga is Sherwani. Due to similarities it is also poplar as Achkan or Doublet. It is most commonly wore by Indian, Pakistani and Bangladeshi grooms as Wedding outfit.
Sherwani is a long knee length coat (suit) like kurta with buttons in the front. Generally made of heavier suiting fabrics such as brocade, silk or wool with lining. Fine embroidery work enhances the royal look of the outfit. Further, various embellishments like beads, sequins, zari, zardosi, resham, swarowski crystals work provide rich ethnic look. The range of embroideries include the Chikankari , Phulkari, Jaal Work, Kantha, Kashmiri and Kashida embroideries. This royal dress is also wore with churidar, briggs pants or dhoti.
With changing fashion, there is a wide range of fabrics, designs and colors representing the fusion of modernity and ethnicity. A matching turban and churidar complete the ethnic yet stylish look of this attire. Further, traditional footwear called mojadi or mojari can be wore on feet instead of shoes. Now a days Sherwani is quite economically found in shops specialized in traditional designer clothes.
You may also like these
Selected posts
Sherwani isn't just meant to be worn by the groom. In fact, it is made for every man who would like to look traditional and indigenous during a wedding. With the passage of time, the traditional Sherwanis have gone out of fashion, and men are on the lookout for the different types of designs. Different types with elaborate thread work and striking colour combinations are available in the market these days. Thus, no matter what your style, there is one made right for you among the different types of Sherwani.
Jodhpuri designs are the best among Sherwanis. Jodhpuri pattern is often considered to be an add-on to a man's outfit ideal for Indian weddings. Nonetheless, the vibrancy and refined look imparted by the Jodhpuri style have made it a favourite attire of almost every man. A royal Jodhpuri Sherwani is often crafted by experienced designers to make the end product look marvellous. Due to this reason, a Jodhpuri's for groom or for wedding is prepared as limited editions pieces which are quite expensive. To add an extra edge to the Jodhpuri, you can pair it up with Jackets, stoles, and cufflinks. In fact, put on every accessory that will make you look like a royal.
The Indo-western Sherwani for marriage is adorned with a touch of modernity. Wearing this attire, you will be able to look balanced, and would be wearing something like a trendsetter. Moreover, the Indo-western for wedding is embellished with contrasting shades, colors, and hues. Choosing an Indo-western for marriage might be an unconventional choice, but if you're bored of traditional designs, there might just be an Indo-western Sherwani for groom out there that you might set your heart on! To satisfy you to the very extent, Indo-western designs are festooned with buttons, gems, cuffs, stones, beads, and royal styled motifs.
Sherwani Trivia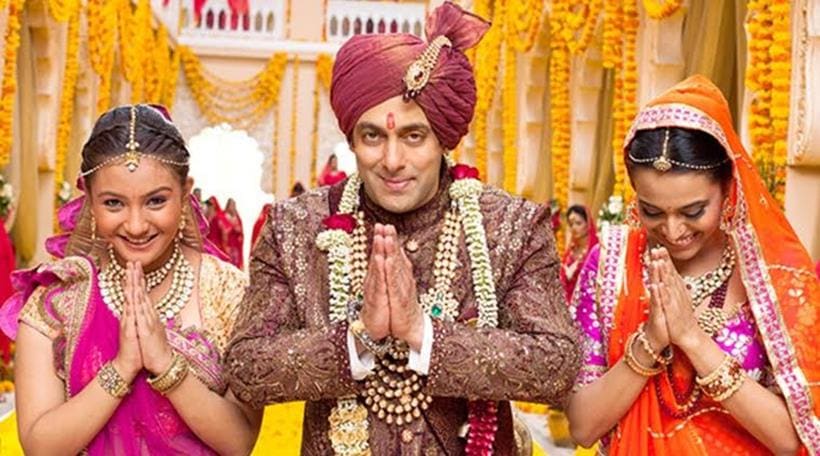 Salman Khan, a Bollywood actor, wore real gold embroidered Sherwani in his movie "Prem Ratan Dhan Payo". Indian music director A R Rahman also wore a black Sherwani to receive Academy Award. The attire originated as a fusion of the Shalwar Kameez with the British frock coat. It traditionally associates with Muslim aristocracy of North India. Therefore it is a symbol of Muslim nobility and Pakistan's national dress for men.
In 18th century, it was the court dress of the royals in India. Subsequently, the Rajput aristocracy adopted it. Before Independence, the outfit closely associates with the founders of Aligarh Movement. Famous brand Armani also included Sherwani in its latest collection.