Kanchipuram silk sarees are the most popular among all variety of silk sarees. It is named after a small town in Tamilnadu where it is primarily manufactured. Silk worms make cocoon from which natural fiber of silk is obtain. It is then wove into stunningly gorgeous drapes in a wide range of colors. This gorgeous outfit is popular worldwide for its lustrous quality of silk and stunning zari pattern.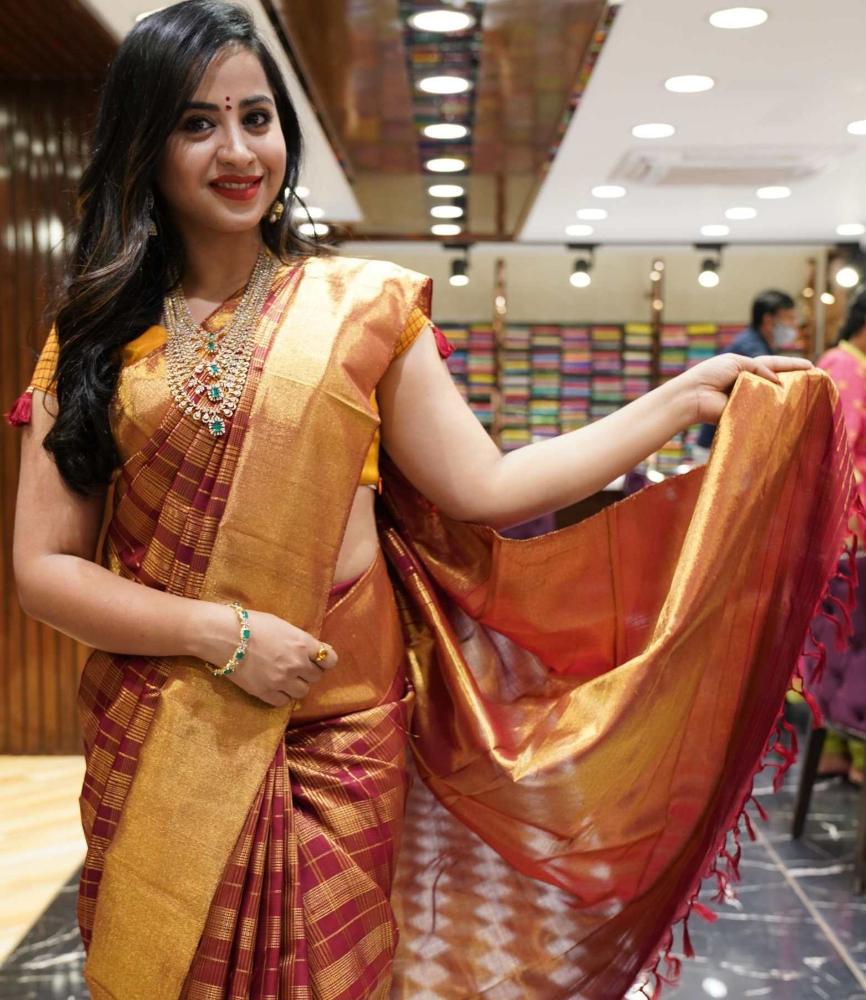 Saree is in one shade while the border and the lower tassel pallu is mostly in contrast. Popular motifs include symbols of birds, flowers, leaves and animals. Yes, Sunshine Orange and beautiful turquoise green come together in this impeccable bridal Kanjivaram making it one of the rarest combinations ever in the contrast Korvai Kanjivaram silk sarees. Bollywood actresses Rekha and Vidya Balan often carry them off with grace at awards functions and events.
In the early days, only wealthy could afford silk sari that used zari thread. Zari cloth fiber is wove with silver thread and then coat in gold. This process not only make sari last longer but also add value making it a prize possession. However, the price is dependent on the amount of zari work and the intricacy of designs. Women of south India wear silk sari particularly on religious occasions, weddings and special events. The detailing and the perfection is what makes these traditional sarees a perfect wear for any opulent occasion.
The special appeal of this seemingly royal venture are the very intricate designs that are woven into the body in gold threads of human and animal figures of geometric designs with temple towers along the border. The borders have wide contrast. Temple borders, checks, stripes and floral (buttas) are traditional designs found on a Kanchipuram silk sarees. The base material, silk, is also known for its quality and craftsmanship.
Kanchipuram silk saree is undoubtedly any women's pride. It is woven with dyed silk yarn, which is inter weaved to form a design with pure zari. Woven from pure mulberry silk, the Kanchipuram Silk saris enjoys a reputation for texture, lustre, durability and finish. The production of the silk yarn with dye and manually setting up loom for each design take weeks to make. Online shopping is not popular among women as they prefer to see and feel the dress materials before making the purchase. Hence, exhibition is an opportunity to buy dress material of choice.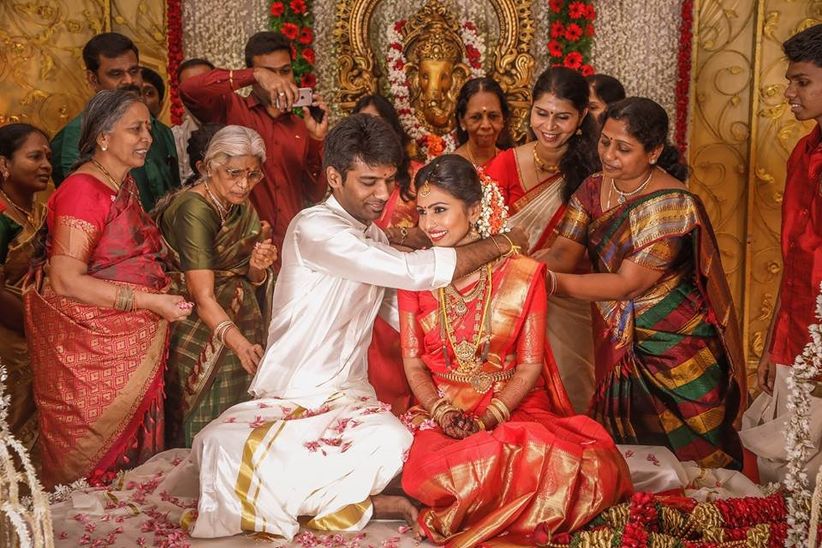 While any beautifully hand woven Kanjivaram or Kanchipuram silk sarees can amaze the wearers. Kanchipuram silk sarees come in various colors and designs, each with a different vibrant combination. A Korvai contrast Kanchipuram silk saree, where in the body and border are woven separately and are interlocked together by hand. While these shades are independently vibrant and nice they are being brought together in a Korvai Kanjivaram saree.
Look at these posts
Our choice
Kanchipuram silk saree also comes in chilli red colour with thiligam zari buttas closed spread across whole of the saree and the border comes in flower design and the pallu comes in flower design gold zari pallu. stone work comes at the edge borders of the saree giving it extra beautiful look to it. Blouse comes in chilli red colour. This saree is quite similar to the anushka sharma wedding silk saree.
The latest Kanchi Pattu Silk Saris have crystals, kundans and beads. The border has a elegant paisley pattern with floral elements decorating the border. The motif is again a beautiful paisley with a peacock setting. They make exclusive gifts on festive occasions, are preferred as grand bridal attire or are used as wear for special occasions like weddings, visit to temples during traditional festivals, cultural programs, big parties and birthdays.
Kanchipuram silk sarees Trivia
Kanjivaram has been an important religious center historically as one of the seven holy places for Hindus. Further it is also capital of many ancient dynasties, including the Cholas and Pallavas. Weaving tradition started around 400 years ago during the reign of King Krishna Deva Raya of the Vijayanagara dynasty. It is when two weaver communities migrated from Andhra Pradesh for catering demand for ceremonial wear during festivals. Every Kanchipuram silk saree come with a matching blouse piece which is same shade as border and pallu.