Wedding sarees are famous through out the world because of its elegant style, designs and embroidery work. The most popular color is red with golden embroidery which is also an auspicious color for bride. Although other colors are also popular but red color have its own importance for bride. Indian traditional sarees come in various style and design that differ from region to region. Bridal saree made with netted fabric is popular all over India.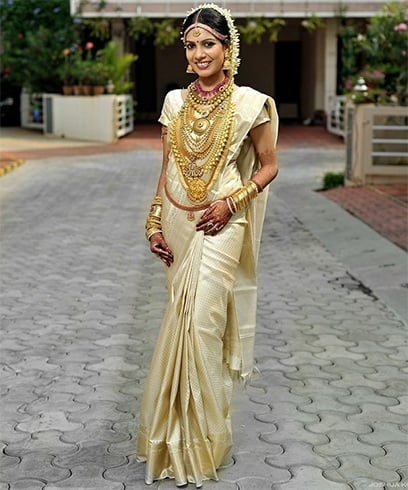 The specialty of these saris is the use of bold colors, intricate embroidery and elegant border work. Add jewelry based on the pattern of the sari and you are sure to rock the reception look. Indian wedding dresses are available in different fabrics such as silk, crape and Georgette. Then lavishly crafted with zardosi, crystals, zari, sequence, embroidery, or kundan work. Therefore, bride needs to wear appropriate wedding saree according to their customs and traditions.
Indian women love to wear wedding saree for ritual ceremonies while Lehengas are for reception. Depending on tradition we choose color, fabric and design pattern of wedding wear. Sari with red border and golden embroidery is the traditional wedding dress of Indian women. Once in a lifetime events such as weddings full of 'Band Baja Barat' demand the best. Hence Indian bridal sarees always carry elegant and luxurious look.
Georgette has a crepe surface and it is a lightweight fabric. As it is manufactured from nylon and polyester it is an ideal garment for winter season. The fabric is more opaque and heavier than chiffon and made from crepe fibers that are twisted. Faux georgette saris are primarily worn on festive occasions and party with trendy fashion jewelry. These saris are soft, light and easy to carry and have fascinating combination of color, fabric and design.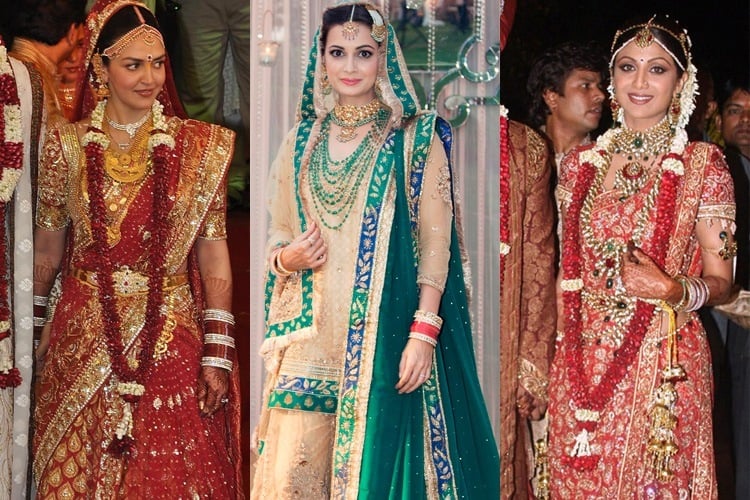 The artistic work in the body or along the edges of the saree gives faux georgette sarees unique appeal. The sequin work patterns, golden prints and resham works, floral motifs add magic to it. These sarees are available in various shades and designs. All sarees come with blouse piece to complement the designer look. These sarees do not swell up like cotton or heavily decorated sarees and cling to the body to give a slim look.
The range of shades offered are simply breathtaking, from deep blue, deep green to off white, mustard, rust, cream, orange, deep magenta, black, maroon, grey, peach, red and multicolor faux georgette sarees. All these sarees come with matching designer blouse piece to make your evening more glamorous. Indian brides in Western countries often wear saree at the ceremony and change into lehenga choli for reception.
Color, style, fabric and ceremonial importance of the attire depends on the religion and culture of the wedding participants. Over time, color options and fabric choices for Indian brides have expanded. Fabrics like Crêpe, Georgette, Tissue and Satin has become the latest trend. While colors expanded to include white, gold, pink, orange, maroon and yellow as well.
Wedding sarees Trivia
Wedding Saree is a cherished possession forever. The colors and the designs etched in each saree symphonies with hundreds of emotions flowing during a wedding. The word saree means "strip of cloth" and the word is from Sanskrit language. It ranges between four to nine yards in length and women drape over their body in various styles.
Indian wedding ritual ceremony can last from 2 to 4 hours. During ritual ceremony pujari recites mantra after mantra and issues instructions on what needs to be done next. Finally, with the ritual walk around the fire seven times completes the ceremony. Cultures evolve, change, adapt and diverge as seen in controversial South Asian wedding magazine.