Saris and Bollywood an age old connection has inspired Indian fashion designers to create irresistible designs. Sometimes a particular Sari design become famous after a blockbuster movie. Furthermore, a song can start new trend of sari style for the festive season. Bollywood divas from Waheeda Rehman to Deepika Padukone have gracefully carried sari with oomph and made everyone to follow them. Thus, saris have an inseparable connection with the Indian film Industry.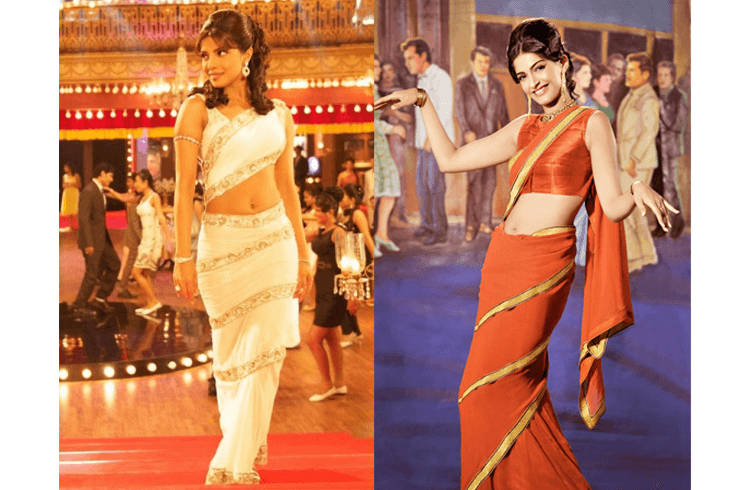 In 1960 Bollywood actress Mumtaz donned orange and gold border sari in the song 'Aaj kal tere mere pyar ke charche' of Brahmachari movie. She showed off her moves in that stunning sexy sari with different style of draping without pleats. Consequently, it made an iconic look that has been copied many times and lapped up by the nation. Madhuri Dixit, an Indian actress who is well known in America, ruled Bollywood in late 80's and 90's. She rocked the screen with heavily adorned purple sari in the most popular movie Hum Aapke Hai Kaun. Her stunning look in the song ' Didi Tera Dewar Diwana' made her a sensation and saris sold like hot cakes.
Who can forget Sridevi in blue saree dancing with Anil Kapoor in Mr.India? Kajol inspired modern Indian woman in Kuch Kuch Hota Hai by tucking sari at her waist and playing basketball. She carried red color saree with attitude in the song 'Tum Paas Aye' which became very popular. Kajol also made trendy designer chiffon saris very popular thru her movie Kabhi Khushi Kabhi Gham. Hence, a Sari scenes often become memorable parts of movie for people to cherish and talked about it all the time.
Look at these posts
Recommended
Few moments in life are as breathtaking as the surreal vision of deepika in red saree at her recent nuptials. The pallu of the pure zari saree bore a golden motif of the 'Gandaberunda', a mythological two-headed bird that denotes prosperity and wisdom – also a symbolic representation of her home state Karnataka. At her glittering reception in Mumbai, she looked fantastic in an Abu Jani- Sandeep Khosla creation. The rich brocade pallu lent a regal touch to the saree.
It's a rare to spot alia bhatt in saree as the millennial icon loves to turn it up with gorgeous western looks – but at the Ambani's engagement party, Alia made eyes swoon with her tradition-meets-modern, millennial pink saree style. She wore a customized brocade saree by Manish Malhotra, but gave it a fun twist with a cold-shoulder cut out blouse and edgy silver jhumkas.
Vidya Balan that is famous for her patronage of Indian hand-woven saris. Vidya in a beautiful handcrafted Raw Mango saree in shimmering shades of gold and black worn by her for the 2017 Star Screen Awards is an absolute stand out! Another Raw Mango selection worth mentioning is the blue saree featuring intricate zari details- that was quite a number!
Priyanka blushed in a jaw-dropping red sari by Abu Jani – Sandeep Khosla at the Ambani engagement party last June. Very recently, Peecee wore a gorgeous off-white, embroidered Sabyasachi saree to a wedding. The bold colour was amplified with a dazzling gold contrast border and a spaghetti-strap embroidered blouse that accentuated every curve in all the right places!
Jessica Alba wearing a Saree for the Bollywood movie 'Love Guru', design by Gurpreet Pia from NewYork. Gurpreet's amazing designs rocked our celebrities. Like in this Saree Jessica seems so comfortable yet she's not having petticoat. But this style looks interesting. The colors also suits her very well. She's also wearing head and neck jewelry.
Ritu Kumar, a veteran designer, cast Aishwarya in one of her prolific ad-campaigns back in the yester years of this diva's career. Aishwarya mesmerized the nation in a dreamy multi-hued silk organza saree. We'll never forget the golden wreaths woven all over the delicate fabric of her sari and the tasteful application of colours.
Saris and Bollywood an Age Old Connection Trivia
Deepika took the nation by storm with the black-pink and electric blue saree with copper-gold border in the movie 'Yeh Jawani Hai Deewani'. She danced off with oomph and, thus, saris became fashion statements overnight. She inspired the graceful half and half saree with her South Indian village belle look in 2013 Bollywood blockbuster Chennai Express. Therefore, sarees will continue to be a fashion statement for Indian women because of Bollywood and its fashion.