Saree draping in different styles as per the region of India is a tradition as old as Indus valley Civilization. Draping a saree is something all girls clamor to learn as they skitter on high heels of their mothers. Saree is a true Indian tradition as it holds Indian values and culture. Indian woman have learned to do wonders with this six yards fabric.
Sarees are trendy, gorgeous and modern and can be worn on both casual and formal occasions. Wearing a saree is quite simple! You just need to know the correct saree wearing method to drape any type of saree. A women can wear saree in more than hundred different styles, few popular ones are as follows:
Gujarati Saree Draping Style: Gujarati women like to wear saris with Pallu (end part) pulled from shoulder and spread in front. This style help them to play Garba with verve and energy while displaying their gold jewelry at its best. Gujarat makes the finest hand-woven sari known as Patola saris. If you're familiar with bright colors and gota embroidery, you would know a little bit about Gujarati sarees as well.
Tamilian Saree Draping Style: Their saris also measures eight meters. Pleats are position along left leg after wrapping around waist, . Rest of the sari is taken over left shoulder and wrapped one more time around waist and tucked on left side. Thus Tamilian women look very graceful wearing a sari in this style. Kancheepuram silk sarees are very popular in this region of India.
Maharashtrian Saree Draping Style: Maharastrain sari draping style is very comfortable and a bit difficult too. Their saris are eight meters long. A portion of sari go up between legs and tuck behind waist, while the other end is drape as a pallu over bosom. Thus it appears to look like a divided sari, allowing greater freedom of movement for traditional Lavni dance. This awesome Marathi style saree is also known as the Nauvari saree drape. If you've seen Vidya Balan dancing on 'Mala Jau De', you'd have an idea about what this dress looks like.
Bengali Saree Draping Style: A Bengali sari is without pleats. First it is wrapped around the waist then brought back to right side and pallu is nicely rested over left-shoulder. Pallu is then brought up under right arm and once again cast over left shoulder and a bunch of keys are tied to the end of pallu. Baluchari silk sari and Kantha saris soaked in their tradition.
People also liked these
Recommended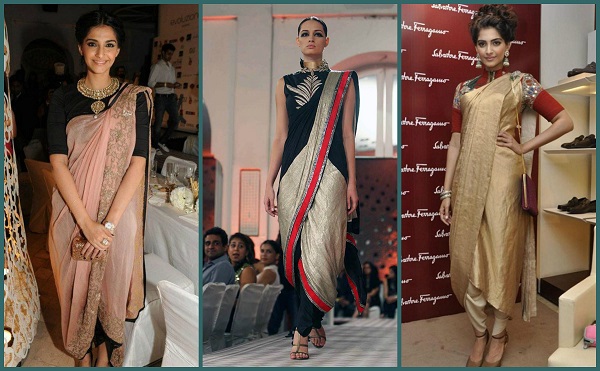 Lehanga Saree Draping Style: Young ladies choose to wear Designer Lehenga Saris that are without pleats. It is just a right kind of outfit for young woman of twentieth century, who works hard and parties harder. She looks for simplicity in life and thus draping a saree has to be very simple. You just have to wear sari and adjust pallu and put your best foot forward. With the popularity of sarees, modern saree draping styles are being looked up now more than ever, and we can safely say that the Indian saree style is continuously evolving.
Saree draping in different styles is an art Trivia
Mumtaj style saris are light weight fabric such as Georgette or Chiffon and a heavy border. She wore sari without pleats in three levels, much like wrapping a bandage, and pallu is on one shoulder. As a result of this you can dance, twist and relive a bygone era. Sari is a versatile garment that is wore as you like. In form, it looks as wonderful as next style of draping. Most noteworthy, each sari is a gem and you can keep adding one to your treasure chest that will only make a queen out of you.